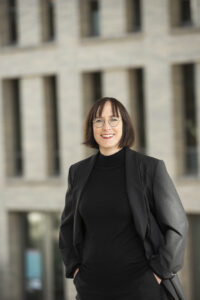 Currently I am Full Professor for Sociology of digitalisation of organisation and work at the Hessian University of Police and Administration.
I am teaching social sciences, empirical research methods and working methods at Bachelor and Master level, supervising students projects, bachelor and master thesis. 
Up to 2016, April I worked as a post-doctoral researcher at the Institute of Sociology, Goethe-University Frankfurt/Main. Before, I hold a Deputy Professorship Sociology with a Specialty in Sociology of Technology at University of Applied Sciences Darmstadt. From 07/2010-07/2013 I worked as a scientific assistant at the Institute of Sociology, Technische Universität Darmstadt in the course of  the BMBF-project "TRUST teamwork". Until July 2010 I have been a fellow at the interdisciplinary Postgraduate School "Topologies of Technologies" granted by the German Research Foundation (DFG) at Technische Universität Darmstadt for four years.
Scientific Activities
Board member section Sociology of Work and Industry in the German Sociological Association (since 09/2018)
Member of the Advisory Board "Transdisciplinary Workplace Research Network (TWR)"
Member of the project advisory board "Qualificia Digitalis", German IT-Planungsrat
Member of the Advisory Board "Project Kommunalcampus"
Member of the project advisory board of the Hans-Böckler-Stiftung project "Lean im Büro" (2014-2016)
Member section Sociology of Organisations, German Sociological Association
Member of the Working Group 9.1. IFIP Computers and Work
Member of International Sociological Association (Research Committee 30 Sociology of Work)
Review Activities: Zeitschrift für Soziologie, Zeitschrift Arbeit, AIS-Studien, Berliner Zeitschrift für Soziologie, Organisational Ethnography; Information, Communication and Society; Annual Conference First International Network of Trust Research (FINT), ISA World Forum u.A.